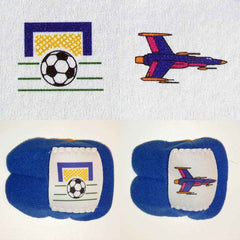 Jet Fighter & Soccer (Classic)
Each "Classic" pack contains two eye patches per package, each eye patch with a different design as shown.
Not sure which size to choose? Click here for more information that may help.
If you have questions regarding placing an order please follow this link, or give us a call at 916-726-9649.
Requires a pair of glasses for use. Simply slide lense between the image and backing sections of the patch, see instructions here.
Free shipping with every order is the Patch Works way, details here.
Made in the USA.